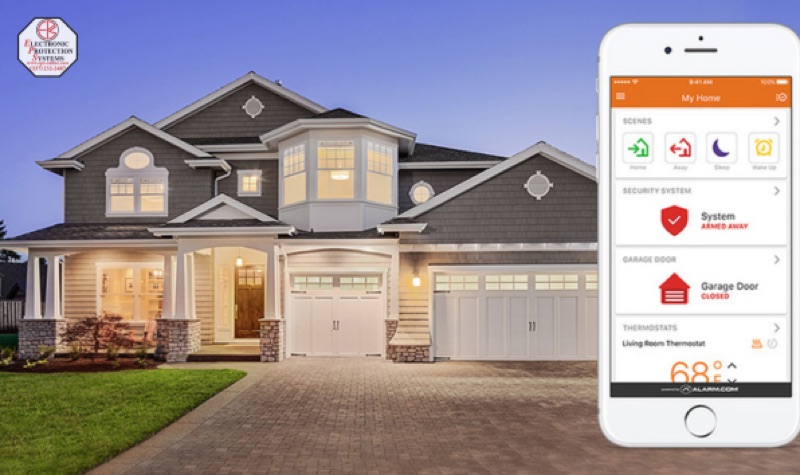 In the bustling modern world, your home stands as a sanctuary of peace and comfort. At Electronic Protection Systems, we believe that securing this sanctuary should be your utmost priority. With the integration of home automation and sophisticated camera systems, fortifying your home against potential burglaries has never been more efficient and affordable. Our customers often provide us with feedback related to our professional perspective being invaluable, so we thought we'd gather information from the minds of our security professionals and share with you!
Primary Protection: Your front door is more than just a welcome entry for friends and family; it should be a barrier keeping unwanted visitors out. Our state-of-the-art, encrypted door sensors alert you the moment an unauthorized entry is attempted, giving you peace of mind even when you are away.
We often see burglary attempts through residential windows. Don't discount the value of protecting those entry points. You should know that relying on a motion detector to protect from window entry only works when the system is armed in away mode. When the system is armed at night without window protection, a burglar can enter the home undetected.
Secondary Protection: If a potential burglar can get through your primary layer of protection, rely on innovative window sensors and glass-break detectors to thwart any burglary attempts, sending alerts directly to your smartphone, allowing for immediate action. We recommend your motion detector being placed in a common area where the bad guy will likely cross while canvassing the home.
Enhanced Protection- Camera Systems: Your home's monitored alarm system will help to deter criminals and get you a quick response in an unfortunate event. But there's no better combination than security and camera systems used in conjunction. Imagine your alarm system goes into alarm - sending an immediate push notification to your smart phone. This often prompts you to check your camera system where you can gather pertinent information on the assailant's vehicle, location, and description. Moments later, you take a call from our monitoring center while viewing your home's high-definition IP camera system - allowing you to relay all the pertinent information to our operator who dispatches the police.
Going the Extra Mile - Deterring Crime: Yard signs and window decals play a crucial role as crime deterrents in the layered approach to home security. Before even attempting to break in, burglars are on the lookout for the easiest targets. Displaying yard signs and window decals prominently is an immediate indication that your home is secure. This serves as a psychological deterrent, making potential intruders think twice before attempting any criminal activity. Displaying these signs and decals not only protects your home but can also encourage neighbors to adopt similar measures, fostering a community where everyone takes security seriously. This collective vigilance can substantially deter criminal activity in the neighborhood.
Implementing advanced features such as a siren and strobe activated camera system in a home security setup can significantly enhance the level of protection and deter crime effectively. Using advanced video analytical technology and people-detection, EPS can program certain areas around your home to trigger a flashing white light, and even program an audible siren to trigger when people are detected at certain times in certain areas. This immediate response can scare off intruders before they can cause harm or damage.
Securing your home is more than just an investment; it's a commitment to safeguarding your sanctuary. At Electronic Protection Systems, we are dedicated to providing local, affordable, and highly effective solutions to protect what matters most to you. Embark on a journey to a safer, more secure home with us today - where innovation meets peace of mind.